TVET Mass Graduation (Four batches of Rice Machinery Operations NC II, Agricultural Crops Production NC II, Agricultural Crops Production NC III, and Bookkeeping NC III)

Published March 29, 2022 by TVET Office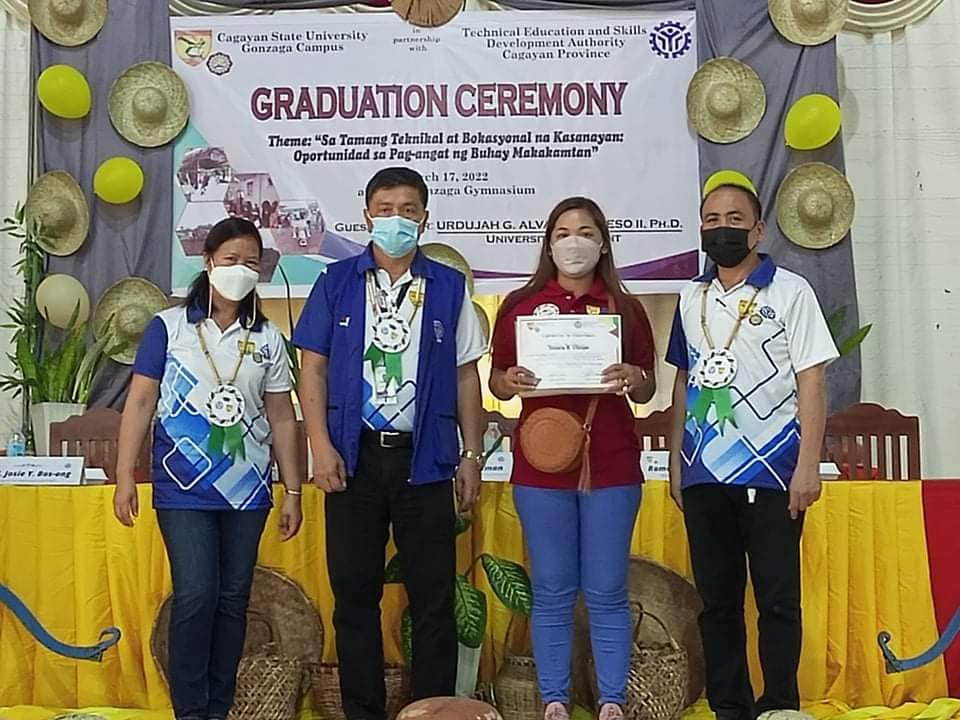 LOOK! LOOK! LOOK!

A total of 175 skilled and competent workers from four different qualifications received their certificates of recognition for completing their training and nailing their assessment during the Mass Graduation last March 17, 2022 held at Cagayan State University- Gonzaga Gymnasium (Four batches of Rice Machinery Operations NC II, Agricultural Crops Production NC II, Agricultural Crops Production NC III, and Bookkeeping NC III).

The scholars from these programs not only received free training and assessments but were also provided with training allowance, protective gear allowances and internet connectivity.

Dr. Froilan A Pacris, Jr., the Campus Executive Officer and Assessment Center manager gave his congratulatory and inspirational message as he proudly express his opening message to the hard-working skilled individuals who made it to graduation.

Ms. Myraly L. Marcos, the Campus TVET Coordinator, gave a synthesis on the training conducted and presented the candidates for graduation to the TESDA Cagayan Provincial Director. Dr. Romeo O. Talosig, has confirmed the graduates and gave his message. He said that TESDA will continuously supporting farmers and all type of stakeholders who wished to have free education.

On the other hand, Dr. Junel B. Guzman, the University Vice President for Research, Development and Extension, gave her inspirational message saying as they continue to grow in skills development and competencies for opportunities that will come in their way and use what they've acquired from the training and manage to be employed or make their own name in the business world which will prove that a graduate from TESDA is a World-Class skilled worker.

The graduates are proud in sharing their experiences and learning as they undergo training. During their testimonial messages, truly they are thankful that CSU-Gonzaga and TESDA has been an instrument in developing their skills further.

Prof. Josie Y. Bas-ong, the University Director for Extension and TVET, said in her response message that learning is a continuous process. And so, she said that farmers, youth, industrial workers and other stakeholders must seek on upgrading their skills so that no one will be left behind specially that our country innovates a lot.

A big hooray to all the graduates! A big thanks also to the trainers, lecturers, and facilitators from Cagayan State University- Gonzaga in line with the partner agencies and training providers, we are not just national certificate holders but world-class skilled individuals! Indeed, Sa tamang Teknikal at Bokasyonal na Kasanayan: Oportunidad sa pag-angat ng buhay Makakamtan!
SHARE ON: